28-05-2016
This second newsletter is to let you know some of the things that are going on within the Company at this time.
The competition for the Well Presented Site Award has finished and the plumbers on the three Area Supervisors nominated sites have all received their £25 bonuses. After much deliberation by the judges the winner of this award was Barratt Homes at Wellingborough and Lee and Adam Tattersdale have now been awarded their glass trophies and their additional £25 bonus. Philip Wintle has been so impressed with the results of the awards he has pledged more money for the September competition so watch this space for details of the prizes. Sincere thanks and congratulations go to everyone who tidied up sheds and areas in compounds as part of this competition.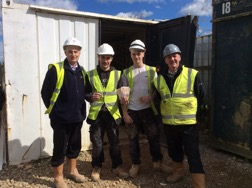 At a recent Sub Contractor Presentation for David Wilson Homes the Company achieved the runners up award in the Sub Contractor of the Year Competition which is a real credit to everyone who has worked and supported on David Wilson Homes Sites. At the same event the Company was highlighted by Chris Hatfield, David Wilson's Managing Director, as the Company to aspire to with regard to Customer Care and credit must go to Liam and Shannon in the office and the team out in the field who have made this possible including all of our engineers who are also on our callout rota. We are not resting on our laurels with these awards and comments as there is still more work to do to reduce our Customer Care costs and ensure we are seen as Sub Contractor of the year with all our Contractors.
At Redrow Barton Seagrave we have yet again come out as one of the number one Contractors for the month and year and we would record that credit for this rests clearly with the Site Team and Area Supervisor who have worked extremely hard to get us to where we need to be. Quality of work is now a high priority with many of our contractors and is starting to win us more work.
Improver Ross Jackson has received a Managing Directors Commendation in recognition of his progress and the quality of work that he has produced. Credit must also go to his mentor Chris Cottle who has, along with his Area Supervisor, helped Ross to this high level of achievement. Very well done to Ross.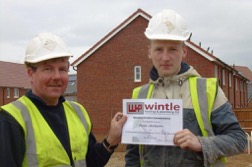 Finally many of you will know that Malcolm Hayes our Training and Development Manager has been working on several initiatives but we did not think that he was so over worked he needed to fall asleep whilst on site!!!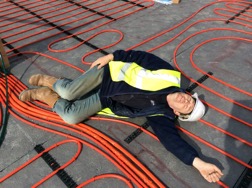 Sincere thanks goes to all of you who are making sure we are progressing on our sites showing why people should be employing us on their new housing sites.
More news from around the Company next month so if you have a good news story please let us know at feedback@wintle.co.uk